A Look At The Top Canadian Professional Gamblers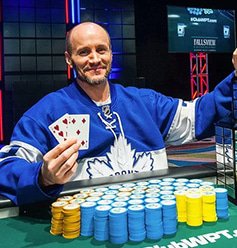 Despite having a much smaller (and relatively poorer) population than its more glamorous neighbor, Canada is a heavy hitter in the gambling world. Canadian professional gamblers have been making waves in the world since the 1970s, and include some of the greatest poker players in the world like Guy Laliberte and Evelyn Ng.
But it hasn't always been this way...
For centuries, and in many countries, gambling was seen as nothing more than a hobby - an extravagant weekend or end-month pastime for people who were considered societal outcasts. But, as the saying goes, time changes everything. The gambling industry is now one of the largest industries in the world, turning over an estimated $227 billion in 2020 and directly supporting over a million employees. And despite the economic damage caused by the COVID-19 pandemic, the gaming industry (and online gambling in particular) showed strong growth in 2020 and is expected to grow even further in the coming years, to an estimated market size of $520 billion in 2023.
Top 3 Canadian Professional Gamblers in 2020
The ever-rising revenues in the gaming industry have given industry players like Canadian casinos, sportsbooks and software developers more financial leverage to undertake changes and improvements to their services, which has further brought in millions of new players. In Canada, where there has been a concerted effort to legalize and liberalized different forms of gambling, and online gambling, in particular, the number of fully professional punters is set to increase drastically in the coming years.
Commendably, even within the current state-run model, there are still tens of players raking in millions of CAD per year from betting on horses and sports. And while it's difficult to obtain historical data seeing as single events sports betting in Canada was illegal not so long ago, there are notable examples of Canadian professional gamblers who hit the big leagues in the 2010s. They include (in no particular order):
Michael McDonald aka "Timex"
The 31-year-old high-stakes punter is easily the most recognizable name in today's Canuck gambling world. Having amassed tournament winnings of over $13 million across his short career, McDonald captured social media attention in August 2020 when he won a $250,000 free throw bet.
Basically, a bunch of high-stake gamblers wagered thousands of dollars against him being able to complete 90/100 basketball free-throw shots within a 24-hour timeframe. It took 5 months for him to accomplish this, but suffice to say, the reward was more than worth it.
Daniel Negreanu
Born in 1974, Negreanu has won over $42 million in his career, putting him third in the list of biggest live poker winners in the world. He is also the first person to win the prestigious World Series Of Poker (WSOP) Player of The Year Award twice, having won it in 2004 and 2013. He is also in the World Poker Hall of Fame, and there is no doubt that as Canada's gambling laws become more hospitable, many professional gamblers from Canada will attempt to 'do a Negreanu' and live off gambling.
Evelyn NG
It would be a travesty to leave out Canada's most famous female gambler, and one of the world's most successful poker players. At only 45, Evelyn NG has already raked in $375,000 from poker tournaments in the years between 2010 and 2020, which is more than most of her age mates have made in their 9-5s in double the time.
Despite making most of her money in the local poker scene, Ng is not just another professional Canadian casino player. She is a globally renowned poker player, having achieved international acclaim in 2010 when she finished second in the Ladies Night edition of the World Poker Tour, edging out big names like Annie Duke and Kathie Liebert. She has also been a brand ambassador of some of the biggest poker brands in the world, chief among them Team Bodog and Poker Stars.