100% Match Bonus, up to $150
Keep the PlayOLG Casino Mobile App in Your Pocket
Online gambling isn't limited to the desktop any longer. Now, guests can download the Play OLG Casino mobile application and get their kicks right in the palm of their hands anywhere in Ontario.
PlayOLG Casino is the only legal online gambling site in Ontario. Playing with PlayOLG is as safe and secure as possible and this remains true on the casino app. Yes, you can try your luck on the go with PlayOLG Casino mobile. The casino app is free and easy to get and can serve all your gambling needs.
PlayOLG Casino Mobile widely available
Because PlayOLG is a legal casino in Ontario, the casino app is available on all the most popular devices. The PlayOLG Casino mobile app is capable of being played on your iPhone, iPad or Android device.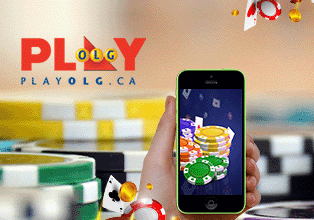 If you've already have an account with PlayOLG, simply load the store on your Apple device and search for the application. If you are on a Wi-Fi connection in Ontario you are good to go right away.
Android users will have to follow instructions that can be found at PlayOLG.co/download in order to get the app on the device. It's simple and clear instructions that only take slightly longer than finding the app in the store. Android has yet to allow any casino app, even legal ones, to appear in the Google Play store.
If you are seeking to use cellular data to play, you will need to register your device to ensure compliance with the laws and regulations. Registering your device is easy.
Navigate to the desktop website, Log-in and go to the My Account page. There you can select My Personal Info and finally My Mobile. Opt-in for Mobile Location Services, type in your phone number and reply ALLOW to the text message you receive.
Now that your device is registered, proceed to downloading the app to your device. Once downloaded, all your gambling needs are right at your fingertips.
Most games available
While some casino's may have a very small selection of games on their app, PlayOLG has many of your favourite slots and table games right in the palm of your hand. Easily navigate to the game of your choosing and start trying your luck.
A majority of the games available on the full site are also on the app. More are being added so always check back to see what new games are offered.
Popular game show slots like The Price Is Right and Wheel Of Fortune On The Road are two games available on the app. So is the ever popular Monopoly Big Event and Monopoly Mega Movers. For a full list of the games offered on mobile PlayOLG Casino, either download the app or head over to the desktop site to scout it out first.
If you are simply wanting to try out a specific game or just have some zero risk fun, you can play for free on the casino app. Playing for real money isn't necessary.
Hassle free deposits right on your phone
Making a deposit has never been easier than with PlayOLG Casino mobile. All the deposit options you can find on the desktop site are also available in the casino app. Use your Visa debit, Visa credit, MasterCard, Debit MasterCard or INTERAC Online payment.
All deposits are processed instantly so the moment you submit your deposit, the funds will become available making it as quick as can be to get you to the slots or tables.
Get exclusive benefits on the casino app
PlayOLG Casino offers great promotions to all players on the desktop site. These are available to mobile players as well. However, there are exclusive offers at times for mobile players. These exclusive offers are only for players on the casino app, desktop players will not be eligible.
These exclusive offers can pop up at any time so keep an eye out for them. They can range from a deposit match bonus, free spins or something else PlayOLG Casino decides to do to reward those who have downloaded PlayOLG Casino mobile.
Need help? We Have the Support You Need
The PlayOLG support is always here for guests even in the casino app. It can be anytime, day or night, as the support is available 24/7. This is true both on your phone and through email. If you have an issue PlayOLG support will do everything they can to fix it to your full satisfaction.
There is of course a live chat option on the desktop site if you prefer that route. Hopefully our guests don't have issues but in the unfortunate case one crops up, PlayOLG is available 24/7.
Play how you want, where you want
Not at home, don't have access to a computer, at home but want to have your feet up in the recliner while enjoying the thrills of gambling? PlayOLG Casino mobile makes it all possible.
You can have it all right in your fingertips. Guests are free to take some spins on the slots hoping to trigger free spins or the bonus game or they can take a seat at the table game of their choosing. It's never been easier to play thanks to the PlayOLG Casino mobile application.